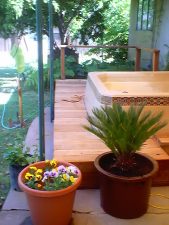 Here are some important tips to remember when house shopping;


THINK TWICE BEFORE BUYING A NEW HOME

When you look closely at a differences between a new house and a custom built previously owned home the choice is clear;

In the 60's raw materials were plentiful and cheap. 2 by 4's were 2 x 4's. Everything was built strong and solid. Beautiful hardwood floors and custom woodgrain stain grade cabinetry was everywhere. Nowadays it is just the opposite. All the sawmills are closed. 2 x 4's are only 3.5" x 1.5 inches. The quality of the wood is inferior. Worse yet they are using flimsy sheet metal that will rust and not have the sound deadning properties of wood.

Model homes are painting the kitchen cabinets white so they can use cheap paint grade garbage recycled sawdust manmade boards that swell when thry get wet. Instead of the natural beauty of woodgrain and stain. These things cost the builders more money so they are trying to brainwash people into thinking this is the "modern way". Wise people see thru this sales & marketing hogwash.

Each time an owner lives in a home he does additional improvements to make the house a more livable, enjoyable home. In a new house these improvements must be done at an enormous expense by the first owner. Landscaping is just one example. The costs are huge to add drip watering, sprinklers, retainer walls, trees and the right combination of plants. This alone could easily add $20,000.00 to $50,000.00 to the cost of a new home in the first few years.

If you buy a new house you will probably be out in the boonies or far edge of town. This means a longer commute time and more wear and tear on the car not to mention the cost of gasoline. If you get a Beautiful Custom existing home in a good part of town you will be walking distance to everything surrounded by beautiful mature landscaping and large trees, be able to pick up anything anytime you want instead of waiting till you "go to town".

One friend that lives in a 'New Crackerbox House' as she puts it said I can't believe how poorly built this place is.
I hear the baby crying next door. The neighbor's house is 5 feet away, I hear them flush the toilet! The walls are so thin I hear every car go by when the TV is on. I have no privacy, no yard, all the houses look alike, I feel like a rat in a maze.


YOU DO WANT A HOME WITH A LOT OF MATURE DECIDUOUS TREES.

Trees are truly wonderful. They clean the air, create a feeling of wellbeing, harmony and good health. If they are well placed they will give much needed shade in the summer and allow light and warmth thru in the winter. They will decrease your energy bill tremendously. Also look for homes with skylights because they allow the perfect light in for growing plants. They reduce electricity usage. Unlike incandesent bulbs that put off a fake yellow light skylights produce a perfect light to the eye for reading or any purpose.


GET A HOUSE WITH A CORNER LOT!

You will love a corner home. By being on a corner you will automatically reduce your neighbors by one half! Therefore you will have 50% more privacy. Also you will have a rear access to your house for your vehicles or RV's. It is very nice to be able to load or unload your furniture, firewood, refrigerator, or whatever from your front or rear doors! To be able to open the gate and pull your car inside your backyard is really nice for security reasons as well.


YOU NO NOT WANT A HOUSE WITH TWO STORIES.

I used to have a 2 story place and it was a nitemare. It was either too hot upstairs and freezing downstairs or or too drafty. The ceiling fans did not work because they were designed for a standard 8 ft room. Once I hurt my foot, another time my ancle, and another time my knee elsewhere and imagine how horrible my life was constantly going up & down those stairs for months until it healed. Another time a good friend twisted her ankle terribly going down the stairs, thank God she did not sue me. It is cheaper for a builder to make a 2 story house because there is only one foundation. A lot of the newer homes that they are trying to cut corners on use them on the tiny lots in North Fresno now days. It gets so bad living in a 2 story house that you will find yourself piling things at the top & bottom because you dred going up & down. It is impossible to keep the temperature constant in a 2 story house because heat rises, therefore you will end up using much more costly energy.

DO YOU REALLY WANT A HOME WITH A POOL? ;

You will pay a whole lot more $ for home owners insurance year after year after year.

You will incur an enormous liability for slip & fall law suits, broken necks from diving accidents, cracked tailbones, elbows, and other possible femers. Not to mention the unthinkable, possible drownings of your loved ones or neighbors.

A pool is an enormous amount of work to keep up. There goes all your spare time constantly scraping the algae, cleaning, shocking, getting the leaves out, changing the filters, repairing the leaks, pipes, skimmers, cleaners, etc. etc.

This year alone over one million americans will learn they have skin cancer. Much of the dammage began when they were kids, and everyone is at risk. When you are young you are especially susceptable and it is accumulative year after year. If you have a pool the kids will be out in the sun much much more. The sun is very very bad for you! Cancer, Melinoma, Premature Aging, Wrinkles, Skin disorders, Spots, Ear infections, To mention just a few. Just having a pool increases your exposure time to its deadly rays.

The caustic and carcinogenic chemicals you have to be constantly exposed to include acids. Don't take needless chances with your health. See www.weather.com for more info.

The Electricity used to run the 220 volt heavy pumps & filters will co$t you a fortune at today$ price$. Your PG & E bill will go thru the roof!

Every few years you will have to resurface the pool at a huge expense, just like reroofing the house.

You can only use a pool a few months out of the year but you keep paying for it all 12 months!

A pool only increases the value of a home $6000 on an appraisers sheet, thats all! More people are looking for a home without a pool than with one. That means you will be hurting your resale potential.

ABOUT THE COMPARISONS DONE BY STUART TITLE.

They were done before the house next door which is only 2100 Sq. Ft. sold for $196,000.00. A lot of the comparisons you will see in this web site were taken from old Fig Garden which is in the Fresno High School district which many believe to be on the other end of the spectrum. Also most of Old Fig Garden homes are 10 to 30 years older and do not have good city curbs, gutters, and street lighting.

This house is north of Shaw avenue which is not old fig garden. It is blocks away from any busy street where it is nice & quiet and there are a lot of birds in the beautiful big trees and mature landscaping. You'll love living here as I have.


IF YOU ARE INTERESTED IN THIS HOUSE;

First contact me then go to a lending institution if you haven't already. Your current bank, or credit union would be a good start since they probably already have most information needed.

Once you have qualified for a loan I will verify it and show you the house. If you like it and wish to purchase it I will give you all the disclosures, forms, and we will simply walk into an escrow office, they do all the work. It is that simple.

If you are new to the area or need some suggestions try;
www.lendingtree.com
www.bankrates.com or
www.hsh.com or
call B of A tower branch 559-445-7715 loan dept.
CLICK HERE FOR THE LENDINGTREE.COM WEBSITE, THEN GO TO MORTGAGES. YOU WILL GET THE LARGEST COMPARISON OF LENDERS I HAVE SEEN ANYWHERE!
Click here for a ton of information on financing, interest rates, and much more.
Click here for; COMPARISON OF CURRENT BANK LENDING RATES
God Bless