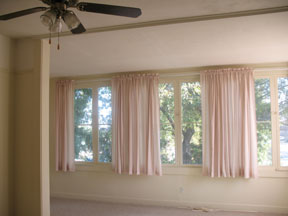 Fantastic remoldoled Victorian, was a Mansion in its time, Largest home and lot in the neighborhood. Features old world charm. 1 in a million! Brand new 30 year roof, Paint, Window coverings,Carpet, Ceramic tile. 6 bedrooms! Ten foot ceilings. Original crown moldings. Over 2/3 acre. Can build a large workshop, pool, tennis court etc. To close after Jan...




The following are improvements to Evelyn;

1. Removed by bulldozer over a Cozen Large stumps, hauled away and leveled land. Now ready to put to 3000 Sq Ft bldg, Garages, Workshop, Tennis court, Swimming Pool, Garden, Nursery, additional Landscaping or whatever hobbies, collectibles, sports, storage or Trades any person may desire.

2. Completely restored the inside and outside wood, primed, filled, restored, sealed and painted with the best rated paint available. Used over 500 gallons of paint and related caulking, spackle, replacement wood, fasteners etc.

3. Removed all old flooring except kitchen and replaced with appropriate linoleum, Berber carpets, hardwood Pergo type flooring, Sanded, sealed, primed, stained and polyurethane rooms respectively.

4. Remodeled kitchen with new counter tops, sink, faucet, paint, ceiling fan, layout, ect. The antique gas rangegoes with the Victorian House.

5. Remodeled both Bathrooms. New Ceramic Tile on walls in upper bath, new paint, floors, molding, ect.

6. Will install 6ft tall wooden Fence between the South neighbor's front yard and out garage, 60' new.

7. Installed new 50 Gal water heater. Installed lot of decorative brickwork.

8. New 30 year multicolored roof. New Screens on all windows and patio area downstairs.

9. Replaced all broken window glass, and installed all New Draperies, hardware and window coverings.

10. Repaired and installed Security screen doors on basement, front and back doors.

This work was done by the owner/builder who holds a Calif Contractors License. The owner will pay for any termite fumigation if needed. The house has a nice full basement with cement floor for enormous amount of storage. Also the attic has access in hall way and another room could eaisly be finished there. The 2 car garage has the property line running thru about 1/4 of it. An existing agreement gives full access and right of use until Jan 29 of 2008. Thereafter another extension could be renegotiated or the garage can be reduced in size or removed and another built

The land area is over 2/3 Acre, which makes it the largest lot in the area. The house is in the County and that allows much more lenient building permits, lower taxes, lower costs of utilities, quieter and nicer due to less density of population. The water for example is unlimited for approx $23 per month! In Clovis I know of a person that has a similar lot and pays upwards of $350.00 per month in the Summer! Owner (559) 441-1111, 230-9839, Gary.

Please, Absolutely NO WALKUPS! CALL FIRST. Thank You

Information herein deemed reliable but not guaranteed. Trades offers also welcome.